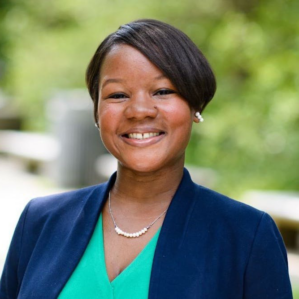 Renita Miller
Chief Diversity, Equity, and Inclusion Officer
Contact »
Renita Miller is the inaugural Chief Diversity, Equity, and Inclusion Officer for the Wharton School at The University of Pennsylvania. In this new role and as a member of Wharton's senior leadership team, Renita is responsible for leading and developing the comprehensive diversity, equity, and inclusion strategic plans, partnerships, programs, and initiatives for the faculty, staff, students, and alumni of the Wharton community. She works closely with the school's leadership to integrate inclusive practices into the core academic and co-curricular activities of the school, including admissions, recruitment, faculty hiring and retention, curriculum development, training and development, and programming. She supports diversity, equity, and inclusion engagement among and across our many alumni audiences.  Additionally, Renita engages with Human Resources to support staff hiring, retention, learning, and development. All efforts aimed at supporting and cultivating Wharton's culture of dignity, respect, transparency, and appreciation of differences.
Renita brings significant experience in higher education, holding various academic and administrative positions throughout her career in the areas of diversity, equity, and inclusion; academic affairs; program development; talent pipeline strategy and implementation; teaching; research; and training and advising. Prior to joining Wharton, Renita served as Associate Dean for Access, Diversity and Inclusion and Executive Director of the Princeton Pre-Doctoral Fellowship Initiative in the Graduate School and Lecturer in the Politics Department at Princeton University. Renita was the Dean of Berkeley College and Lecturer in the Political Science Department at Yale University. She has also served as the Director of Studies at Forbes College and the Director of the Princeton Summer Undergraduate Research Experience (PSURE) at Princeton University. Her teaching and research focus on understanding the influence of race and representation with a particular focus on political rhetoric, deliberation, education policy, and leadership within political institutions. Renita was also a research fellow for the Project of Equity, Representation, and Governance at Texas A&M and the Kinder Institute of Urban Research at Rice University. Prior to her work in academia Renita worked as an education policy consultant and pharmaceutical sales representative and trainer.
Renita earned her Bachelor of Business Administration in Marketing from Baylor University and her M.A. and Ph.D. in Political Science from Rice University.